RMI's Micro Encoder
- I built it, you can too! -
or
- What I Did With My Time While It Was Too Cold To Cure Epoxy -
by Rick Junkin
The first time I saw an advertisement for this instrument (about 8 years ago), I thought to myself, "How in the world can anyone justify paying that much for a KIT, and who needs all that high tech, failure-prone electronic stuff anyway?" At that time it seemed to be a matter of status to have an instrument panel literally jam packed with radios, gauges, switches, and lights. The more that was there, obviously, the more redundancy you had and the more you could do with the airplane (I now refer to these crowded panels as "eye-magnets"). Time and experience has taught me, however, that the less there is to look at inside the airplane, and the easier it is to assimilate the information presented by what is there, the safer and more enjoyable the act of flying becomes, and the more prone you are to spend most of your time looking out the window for traffic or sights on the ground. I resolved a few years ago that no matter which aircraft I decided to build, the cockpit was going to be as uncluttered and complete as possible, within the constraints of budget and weight, and it was going to be digital. Ron Mowrer of Rocky Mountain Instrument markets a pair of instruments designed to do exactly what I'm looking for make my flying experience more enjoyable, less fatiguing, and most importantly, safer.
Let me start by showing you what data the RMI instruments present to the pilot, the standard instruments they can replace (in VFR applications only), and a little bit about value. The comparison table I put together should give you a good idea of whether the expense associated with these projects can be justified in your personal application. As a point of reference, the prices I used came from the 1996 AS&S catalog, and I looked for average priced TSO'd components. In some cases I've noted the price of a non-TSO'd component for your reference. The right hand column of the table is my "realistic estimation" of the standard instruments the typical KR builder/pilot would actually buy to put in his airplane, which also helps point out the capabilities you will get for "free". Also note that the RMI prices I'm using are the latest prices for the kits -- if you want to buy them preassembled, add another $300 to the price of each (or contact me, I really enjoyed putting this thing together ;-}). Oh, and by the way, the price for the Micro Monitor (which I haven't built yet) does not include all of the sensors and probes needed, so I didn't include probe and sensor costs with the "standard instrument" prices, either. Expect to spend another $200 to $500 on these items, depending on how much capability you desire (EGT/CHT on every cylinder, carb temp, fuel flow, etc.).
Some of the features of the RMI equipment are not available in standard instrument form (or at least I couldn't find them), most notable of which are the many alarms that are built into the monitor and encoder to help the pilot monitor the health of his power plant and the accuracy of his altitude control. Without my getting too melodramatic, let me propose that these alarms could potentially save you from making an error that could get you violated, or more importantly, from missing an indication of an engine problem that could cause you to lose your airplane or your life. In the case of the Micro Encoder, it has three altitude alert modes: hold altitude, converge altitude, and approach altitude (check out the web page at http://www.rkymtn.com for more details), as well as programmable airspeed alerts and alarms for just about every V speed. You'll have to assign your own value estimation on these features. Ok, time to get off the soap box and on to the details of the fun I had building this contraption.
Micro Encoder Kit Composition. RMI has been around for a number of years, and they have done extremely well at refining their kits to the point that just about anyone can assemble them. The documentation is excellent, and written in such a way that you don't have to know a thing about electronics and you will still finish up with a working instrument. The assembly manual starts out with a list of tools you will need, and then goes into just the right amount of detail telling you how to make a good solder joint. If you've never soldered before, you will learn enough to be proficient. If you're already an expert, you'll appreciate the review. I personally appreciated the many "piece of mind" notes sprinkled throughout the assembly manual, particularly the one telling you that the parts you have left over in your anti-static box when you've finished construction of the main unit are for the temperature probe you will construct after the rest of the kit is complete... (ever take a carburetor apart and have a few pieces left over after you're through putting it back together?? You know the feeling...). Other notes let you know that you won't be filling all of the component positions on the printed circuit cards. Sure helped me sleep better while I was building. After I quit and went to bed, that is....
.

.

'Realistic

Feature

Cost

Standard Instrument Model

Cost'.

Encoder

$170

Terra AT-3000

$170

Altimeter

$350

United Instrument 5934P-1 (non-TSO'd about $200)

$350

VVI

$130

Standard Flight 0-2000 FPM

$130

Airspeed

$260

United Instrument 8000 Series (non-TSO'd about $120)

$260

OAT

$100

Davtron Instruments M301 OAT

.

True Airspeed

$280

United INstrument 8100 Series (non-TSO'd about $120)

.

Pressure Altitude

$249

Davtron Instruments M655 (Pressure and density altitude)

.

Density Altitude

??????

.

.

True Altitude

??????

.

.

Altitude Alarms

??????

.

.

Total

$1,539

What you would probably actually buy
(Encoder, Altimeter, VVI, Airspeed)

$910

microEncoder

$879

.

$879

Savings

$660

.

$31
.

(not reviewed in this article, but provided for info)

Realistic

Feature

Cost

Standard Instrument Model

Cost

Tachometer

$170

Mitchell Aircraft Products

$170

EGT

$70

Standard Engine Instruments P/N 928

$70

CHT

$60

Standard Engine Instruemtns P/N 9216

$60

Oil Temp

$90

UMA Instruments P/N 12-200-250F

$90

Carb Tenp

??????

.

.

OAT

$100

Davtron Instruments M301 OAT

.

Oil Pressure

$90

UMA Instruments 3-331-12

$90

Fuel Pressure

$90

UMA Instruments 3-102-XX

$90

Manifold Pressure

$90

UMA Instruments 7-100-10

.

Fuel Flow

??????

.

.

Timer

$130

Davtron M800

.

Hobbs Meter

$45

.

.

Ammeter

$90

UMA Instruments 15-100-XX

$90

Volt Meter

$60

UMA Instruments 14-100-16

$60

Alarms

??????

.

.

Total

$1,085

What you would probably actually buy (Tach, EGT, CHT,
Oil Temp, Oil Pressure, Fuel Pressure, Ammeter,
Voltmeter)

$720

microMonitor

$999

.

$999

Savings

$86

.

($279)
Speaking of printed circuit cards, there are three of them in the Micro Encoder, and all are silk screened to show both where the components go and how they are to be oriented on the board. The components themselves are shipped in three formats -- static-sensitive components, such as integrated circuit chips and the display driver circuit board, come in anti-static protective containers and bags; large non static-sensitive parts come loose in a plastic bag; and small resistors and capacitors come on sort cards, neatly labeled and arranged in the order they are needed for assembly. They really make this easy for you.
Construction Details. First of all, make sure you have ALL the tools the manual tells you that you will need, and heed their advice regarding a quality soldering iron. They recommend a temperature controlled iron (which runs about $230+!!!), but say that a professional quality 25 watt iron will work just fine. They were right, I paid $35 for a Weller professional quality pen-type soldering iron, and didn't have a lick of trouble with it (NOTE: I had two other soldering pens in my shop, but both were inexpensive [read that as CHEAP] tools I had purchased to make some emergency repairs in the past. I bought a high quality iron for this project, and you'll thank me for advising you to do the same!). Make sure you get a 1/16" screwdriver tip like they recommend, and keep it clean during the construction process. Check out http://www.mouser.com, Mouser Electronics, and request a catalog. They have soldering irons as well as all (and I mean all) of the switches, lights, and electronic components you will need for your airplane. The rest of the tools and equipment you probably already have, with the exception of a 4 and a half digit multimeter. This is another big dollar item, and is best borrowed from your neighbor with the home electronics repair shop in his basement. Don't worry if you can't get your hands on one, the manual tells you how to work around it. More on that later.
Figure 1. Here's everything that comes with the kit. The black bags hold the static-sensitive components. The white cards hold all of the small resistors and capacitors, identified and sorted in the order of assembly.
Figure 2. You will be doing a lot of detail work, so make sure your work area is well lit. Also, observe the anti-static procedures outlined in the manual to the letter!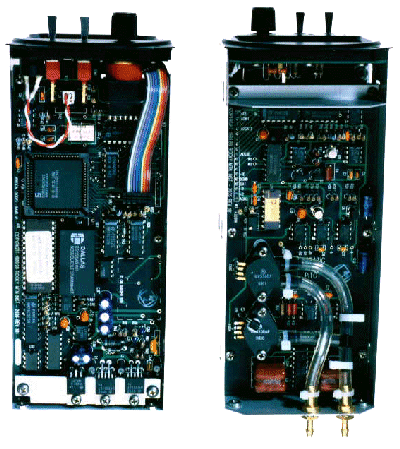 Figure 3. Here are the two main circuit boards with all the components soldered in place, mounted in the chassis and ready for the IC chips to be installed. Notice the socket pins for the chips. The pins come on plastic strips that hold them together in place while you solder them to the board. It's a lot easier than it looks!
You don't need a large work space. I completed the entire assembly on a card table-size work area in my basement. Good lighting, on the other hand, is essential. The manual says to allow 15 to 20 hours for construction (it took me about 11), and all the work you will be doing is detail work, so make sure you do everything you can to avoid eye strain. I couldn't locate a pair of those flip-up magnifiers that you can wear on your head; I will DEFINITELY find a pair before I start on my Micro Monitor. I used a hand magnifier to examine my solder joints, and that slowed me down considerably. Which brings up a good point -- TAKE YOUR TIME!!!!! This kit goes together very quickly and easily, and the people who wrote the assembly instructions are experts at keeping the horse in front of the cart. I was tempted to skip ahead a few times, and work on something that seemed to make sense at the time, but fortunately that voice in the back of my head remembered the line at the beginning of the manual that said "Don't skip steps!". In hind sight, following the directions EXACTLY saved me some rework.
Gotchas. There were a couple of things in the manual (albeit very small things) that I commented back to RMI on. Out of all of the components in this kit, there was only one with markings that did not exactly match the call out in the manual. Actually, the nomenclature didn't match at all. A call to RMI revealed that they had recently changed suppliers for this particular part (a resistor network), and the new supplier's markings were different from the original suppliers. No big deal, it fit where it was supposed to go.
The other items pertained to testing the completed kit. The manual tells you to hook your kit up to a 12 volt car battery charger as a power source to perform the initial testing. I found that the battery charger I had didn't have a steady voltage output, and this caused the indications on my unit to be unstable, i.e. the altitude wouldn't hold steady, and the VVI was jumping around constantly. The manual tells you that if you have problems, you should hook your unit up to a car battery and see if that stabilizes it before you call in for technical help. I opted to use two 6 volt dry cell batteries wired in series instead, since I didn't have a spare car battery in my basement. The steady voltage source solved my problems.
The last gotcha (which cost me another phone call) has to do with the 4 and a half digit multimeter I mentioned earlier. There is a 4 volt test point on the air data PC board, and the manual says to adjust it with the digital voltmeter to exactly 4 volts. I assumed (and apparently a number of other folks have as well) that the reason for using this precise voltmeter was to make sure you got the voltage adjusted to exactly 4.000 volts. The real reason is that the voltage adjusts from 3.997 volts to 4.003 volts, and you can't see it unless you have a meter that reads to the appropriate number of decimal places. The manual doesn't tell you this (at least not yet, Ron was revising it when I called him), and this step comes right after you adjust the voltage on the display board, which you can take from 0 to well above the required 3.8 volts with the variable resistor. Well, I didn't have a $300 4 and a half digit voltmeter, I had an analog meter that's been around for a long time. I had just set the voltage on the display board with it, and I wanted to at least check to make sure that I hadn't blown anything on the A/D circuit board, so I hooked it up and started adjusting the resistor -- nothing. No movement of the needle. I thought I had cooked the resistor. Ron set me straight with a laugh, and said something about wishing he had left that out of the circuit.... The bottom line is, the manual tells you how to set the resistor to midrange without a voltmeter, and that's what I finally did.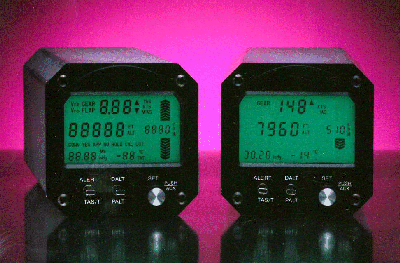 Figure 4. The display is very readable and intuitive. The photo on the left shows all the display segments illuminated; and the photo on the right shows a typical operational display. The top of the display shows altitude information, with programmable airspeed alarms for Vne, Vno, gear extension, flap extension, and flap/no flap stall speeds. The middle of the display shows altitude information, with three altitude alert modes. The bottom of the display shows the altimeter setting, which can be set in millibars or inches of mercury, and OAT read from a sensor you construct, displayed in degrees Celsius or degrees Fahrenheit. And finally, the right side of the display shows vertical velocity both digitally and graphically. The VVI graphic presentation sensitivity and range is programmable, and magnetic heading input from an external compass engine can be displayed in place of the digital VVI. Actuation of the switches at the bottom of the unit display the indicated information, as well as provide access to the "set" and programming modes for the alarms and indications.
Overall impressions. I can't say enough about this project. The kit is 100% professionally done, and I don't know how they could make it easier to put together. Customer service was great, and Ron answered my emails all within one day. As for the finished product, if you don't tell people you built it from a kit, they will NEVER guess. As far as functionality in the cockpit, I can only speculate at this point. But based on my experience with head up displays and digital avionics, and after running my unit in its demo mode for a couple of hours, I am extremely happy with my choice. The display is intuitive, as are the unit controls; it's easy to operate, and the alarm/alert modes alone will be worth the cost of the whole unit when flying in the congested areas here around St Louis.
Recommendations. Take a look at the cost comparison table and make your own assessment. Don't forget to consider the benefits in safety of flight and reduced cockpit workload. And don't shy away from the technology just because it's electronic and you've never built anything before -- it's really as easy to build as I described. Weight savings over conventional instruments may be there, but I didn't take the time to research it fully. I had originally estimated my weight savings at about two pounds by using both the Micro Encoder and Micro Monitor instead of conventional instruments. But I'm planning on using the optional backup battery for the Micro Monitor in my installation, so the weight difference will most likely be a wash. I feel the backup battery option is really a must, though, as we all agreed (I think?) when we were discussing this issue a month or so ago on KRNet. A redundant power source for instruments displaying critical engine and flight parameters only makes sense.
On the other hand, take a look at what your personal instrument panel plan and flying applications are, and determine if you need what this product has to offer. If you live in Nebraska and are planning to only fly for pleasure around the local patch, it doesn't make sense to invest that much money in something like this, unless you are a techno geek and just WANT one (no offense, I are one too ;-}). At the other end of the spectrum, if you are planning on a full IFR setup, remember that the Micro Encoder should only be used as a replacement for only your VVI, nothing else! The prudent aviator will still need his/her standard A/S and altimeter, so make sure your panel layout will make sense. The utility of this unit in IFR conditions is obvious, but panel space is limited, and a full panel is already expensive enough.
And last, take a look at the RMI web page, http://www.rkymtn.com. All of the information you could possibly want is available there, including downloadable versions of all the manuals. All of the contact information is there as well, but for completeness, here it is:
Rocky Mountain Instrument, PO Box 683, Thermopolis WY 82443 Phone (307) 864-9300 , FAX (307)864-9264
Email sales@rkymtn.com, info@rkymtn.com, techsupport@rkymtn.com, or webmaster@rkymtn.com
I talked to Ron about volume discounts, and he said that they start at 5 units. You may be able to save some money if you can get enough folks here or at your local EAA chapter interested. I'll be buying the Micro Monitor kit sometime next fall (that's when my engine installation is scheduled for), and will be canvassing to get other interested folks together at that time.
I hope my insights and opinions have been of value to you. After looking back over what I've written, I think it's important to mention that I am NOT on the RMI payroll, and I'm not getting any promotional fees or considerations from Ron!! I am just really impressed with the RMI products, and truly believe they are a the best value for the money on the market. Not only that, but way down deep inside, I'll always be a techno geek .. KR's to infinity and beyond!!!

RMI NOTE: The above unedited article (except for format and pictures) appeared in the KR Online Newsletter.